(Well, it was back in 2013!)
It's clear from the popularity and growth of
William Hill's mobile site that it is the best mobile website for sportsbetting.
Why we think they are the best mobile website
If you are after a mobile sportsbetting site that keeps you up to date with live scores, offers rich content from the Racing Post and has coverage of just about every sport and event globally then
William Hill is the one for you.
A great live betting experience
While mobile apps from the App Store and Google Play are popular, the majority of sportsbetting is done through mobile websites.
William Hill have recognised this and are continually adding new features and content. The live betting or in-play section has live scores for every event nd now matches the offering on their award winning website.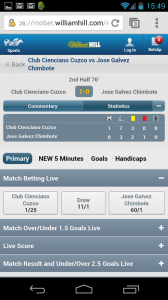 Enhanced Horse Racing Content
The horse racing section reflects the approach of their Racing Post app on iOS – they have integrated some excellent and trusted content form the Racing Post right into the racecards.
Lots of Mobile Specific Promotions
You'll immediately notice the mobile betting promotions on the
homepage – from money back offers to the increasingly popular Bore Draw refunds, Hills seem to offer plenty of promotions just for mobile.
What's missing?
Not a lot at this point but the only real obvious weakness is the lack of video streaming. You get great coverage on their website so we hope it's only a matter of time before they can add it to the mobile version.
Summary
We're going to recommend
William Hill as the best mobile website. We'll keep a close eye on this category as there is plenty of competition from Bet365 and from Paddy Power also.